Faculty Profiles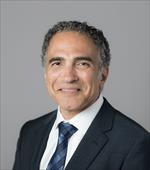 Mehrdad Arjomandi, MD
M_MED-VAMC-PULM
Associate Professor
4150 Clement Street
San Francisco, CA 94121
415-221-4810 ext. 24393
[email protected]


Dr. Arjomandi is Associate Professor of Medicine in the Division of Pulmonary, Critical Care, Allergy, Immunology, and Sleep Medicine at UCSF with a joint appointment at San Francisco Veterans Affairs Medical Center. He is Director of the UCSF Human Exposure Laboratory at San Francisco General Hospital, Director of Environmental Medicine Clinic at San Francisco VA Medical Center, and an investigator at the UCSF Center for Tobacco Control Research and Education.


Dr. Arjomandi received his bachelor degree in molecular biology from University of California San Diego in 1991, and his MD degree from Stanford University School of Medicine in 1996. He completed his residency in Internal Medicine at UCLA Medical Center (1999) and his fellowship in Pulmonary and Critical Care Medicine at UCSF (2003) before obtaining an NIH/NHLBI Mentored Patient-oriented Career Development Award (K23) and joining the faculty at UCSF. He currently is the PI on several large investigator-initiated industry-funded grants. In addition, he is the PI on two foundation grants [the Flight Attendant Medical Research Institute (FAMRI), and the Health Effect Institute (HEI)].


Research Interests


The lung is constantly exposed to various environmental pollutants, allergens, and toxins, which interact with airways and alveoli and result in inflammation, injury, and disease. Exposure-related pulmonary diseases are increasingly recognized as a growing global problem.


My laboratory primary research interest has been centered on the paradigm that respiratory exposures to pollutants and toxicants contribute to development and progression of chronic lung disease, and may further yield systemic effects well beyond lungs. Under this paradigm, my research activities have focused on understanding the physiologic and immunologic mechanisms via which environmental exposures contribute to chronic lung disease and how knowledge of these mechanisms could be translated to ways to better define, prognosticate, and manage disease burden.


I have dedicated my efforts to (1) investigate the biology of airway immune cells using inhalational exposure to ozone in humans as a model of lung injury simulating exacerbation in chronic lung disease, and (2) characterize the cardiopulmonary abnormalities in a cohort of individuals with history of prolonged heavy exposure to secondhand tobacco smoke as a model of occult chronic obstructive lung disease.
Education and Training

| Location | Degree or Training | Specialty | Date |
| --- | --- | --- | --- |
| University of California, San Francisco | Fellowship | Pulmonary & Critical Care Medicine | 06/2003 |
| University of California, Los Angeles | Residency | Internal Medicine | 06/1999 |
| Stanford University | MD | MD Program | 06/1996 |
| University of California, San Diego | BA | Molecular Biology | 06/1991 |
Related Web Sites
In the News
Recent Articles (32)
Lung Volumes Identify an At-risk Group in Persons with Prolonged Secondhand Tobacco Smoke Exposure but without Overt Airflow Obstruction. BMJ Open Respiratory Research 2018;5:e000284. doi: 10.1136/bmjresp-2018-000284. 2018.
Arjomandi M, Zeng S, Geerts J, Stiner RK, Bos B, van Koeverden I, Keene J, Elicker B, Blanc PD, Gold WM. Lung volumes identify an at-risk group in persons with prolonged secondhand tobacco smoke exposure but without overt airflow obstruction. BMJ Open Respir Res. 2018; 5(1):e000284.
Arjomandi M, Zeng S, Blanc PD, Gold WM. Increasing the Resolution of Chronic Obstructive Pulmonary Disease Definition. Lessons from a Cohort with Remote but Extensive Exposure to Secondhand Tobacco Smoke. Ann Am Thorac Soc. 2018 Apr; 15(Supplement_2):S122-S123.
Blagev DP, Collingridge DS, Rea S, Press VG, Churpek MM, Carey K, Mularski RA, Zeng S, Arjomandi M.. Stability of Frequency of Severe Chronic Obstructive Pulmonary Disease Exacerbations and Healthcare Utilization in Clinical Populations. Chronic Obstr Pulm Dis. (In Press). 2018.
Arjomandi M, Balmes JR, Frampton MW, Bromberg P, Rich DQ, Stark P, Alexis NE, Costantini M, Hollenbeck-Pringle D, Dagincourt N, Hazucha MJ. Respiratory Responses to Ozone Exposure: The Multicenter Ozone Study in oldEr Subjects (MOSES). Am J Respir Crit Care Med. 2017 Dec 12.
Schneiderman AI, Dougherty DD, Fonseca VP, Wolters CL, Bossarte RM, Arjomandi M. Diagnosing Chronic Obstructive Pulmonary Disease Among Afghanistan and Iraq Veterans: Veterans Affair's Concordance With Clinical Guidelines for Spirometry Administration. Mil Med. 2017 Sep; 182(9):e1993-e2000.
Tham A, Lullo D, Dalton S, Zeng S, van Koeverden I, Arjomandi M. Modeling vascular inflammation and atherogenicity after inhalation of ambient levels of ozone: exploratory lessons from transcriptomics. Inhal Toxicol. 2017 02; 29(3):96-105.
Frampton MW, Balmes JR, Bromberg PA, Stark P, Arjomandi M, Hazucha MJ, Rich DQ, Hollenbeck-Pringle D, Dagincourt N, Alexis N, Ganz P, Zareba W, Costantini MG.. Multicenter Ozone Study in oldEr Subjects (MOSES): Part 1. Effects of Exposure to Low Concentrations of Ozone on Respiratory and Cardiovascular Outcomes. Health Effects Institute. Research Report Number 192, Part 1. Published at www.healtheffects.org/publications. 2017.
Leroy P, Tham A, Wong H, Tenney R, Chen C, Stiner R, Balmes JR, Paquet AC, Arjomandi M. Inflammatory and repair pathways induced in human bronchoalveolar lavage cells with ozone inhalation. PLoS One. 2015; 10(6):e0127283.
Arjomandi M, Wong H, Donde A, Frelinger J, Dalton S, Ching W, Power K, Balmes JR. Exposure to medium and high ambient levels of ozone causes adverse systemic inflammatory and cardiac autonomic effects. Am J Physiol Heart Circ Physiol. 2015 Jun 15; 308(12):H1499-509.
Holland N, Davé V, Venkat S, Wong H, Donde A, Balmes JR, Arjomandi M. Ozone inhalation leads to a dose-dependent increase of cytogenetic damage in human lymphocytes. Environ Mol Mutagen. 2015 May; 56(4):378-87.
Bhattacharya M, Sundaram A, Kudo M, Farmer J, Ganesan P, Khalifeh-Soltani A, Arjomandi M, Atabai K, Huang X, Sheppard D. IQGAP1-dependent scaffold suppresses RhoA and inhibits airway smooth muscle contraction. J Clin Invest. 2014 Nov; 124(11):4895-8.
van Koeverden I, Blanc PD, Bowler RP, Arjomandi M. Secondhand Tobacco Smoke and COPD Risk in Smokers: A COPDGene Study Cohort Subgroup Analysis. COPD. 2015 04; 12(2):182-9.
Hidden Costs of Climate Change: Contribution of Ozone to Human Diseases. Proceedings of the American Association for the Advancement of Science. Proceedings of the U.S.-Iran Symposium on Air Pollution in Megacities. 2013.
Kudo M, Khalifeh Soltani SM, Sakuma SA, McKleroy W, Lee TH, Woodruff PG, Lee JW, Huang K, Chen C, Arjomandi M, Huang X, Atabai K. Mfge8 suppresses airway hyperresponsiveness in asthma by regulating smooth muscle contraction. Proc Natl Acad Sci U S A. 2013 Jan 08; 110(2):660-5.
Arjomandi M, Haight T, Sadeghi N, Redberg R, Gold WM. Reduced exercise tolerance and pulmonary capillary recruitment with remote secondhand smoke exposure. PLoS One. 2012; 7(4):e34393.
Donde A, Wong H, Frelinger J, Power K, Balmes JR, Arjomandi M. Effects of exercise on systemic inflammatory, coagulatory, and cardiac autonomic parameters in an inhalational exposure study. J Occup Environ Med. 2012 Apr; 54(4):466-70.
Arjomandi M, Galanter JM, Choudhry S, Eng C, Hu D, Beckman K, Chapela R, Rodríguez-Santana JR, Rodríguez-Cintrón W, Ford J, Avila PC, Burchard EG. Polymorphism in Osteopontin Gene (SPP1) Is Associated with Asthma and Related Phenotypes in a Puerto Rican Population. Pediatr Allergy Immunol Pulmonol. 2011 Dec; 24(4):207-214.
Arjomandi M, Frelinger J, Donde A, Wong H, Yellamilli A, Raymond W. Secreted osteopontin is highly polymerized in human airways and fragmented in asthmatic airway secretions. PLoS One. 2011; 6(10):e25678.
Goolaerts A, Lafargue M, Song Y, Miyazawa B, Arjomandi M, Carlès M, Roux J, Howard M, Parks DA, Iles KE, Pittet JF. PAI-1 is an essential component of the pulmonary host response during Pseudomonas aeruginosa pneumonia in mice. Thorax. 2011 Sep; 66(9):788-96.
Arjomandi M, Seward J, Gotway MB, Nishimura S, Fulton GP, Thundiyil J, King TE, Harber P, Balmes JR. Low prevalence of chronic beryllium disease among workers at a nuclear weapons research and development facility. J Occup Environ Med. 2010 Jun; 52(6):647-52.
Arjomandi M, Haight T, Redberg R, Gold WM. Pulmonary function abnormalities in never-smoking flight attendants exposed to secondhand tobacco smoke in the aircraft cabin. J Occup Environ Med. 2009 Jun; 51(6):639-46.
Arjomandi M, Tager IB, Bastaki M, Chen C, Holland N, Balmes JR. Is there an association between lifetime cumulative exposure and acute pulmonary responses to ozone? J Occup Environ Med. 2008 Mar; 50(3):341-9.
Chen C, Arjomandi M, Balmes J, Tager I, Holland N. Effects of chronic and acute ozone exposure on lipid peroxidation and antioxidant capacity in healthy young adults. Environ Health Perspect. 2007 Dec; 115(12):1732-7.
Chen C, Arjomandi M, Tager IB, Holland N, Balmes JR. Effects of antioxidant enzyme polymorphisms on ozone-induced lung function changes. Eur Respir J. 2007 Oct; 30(4):677-83.
Chen C, Arjomandi M, Qin H, Balmes J, Tager I, Holland N. Cytogenetic damage in buccal epithelia and peripheral lymphocytes of young healthy individuals exposed to ozone. Mutagenesis. 2006 Mar; 21(2):131-7.
Witten A, Solomon C, Abbritti E, Arjomandi M, Zhai W, Kleinman M, Balmes J. Effects of nitrogen dioxide on allergic airway responses in subjects with asthma. J Occup Environ Med. 2005 Dec; 47(12):1250-9.
Arjomandi M, Schmidlin I, Girling P, Boylen K, Ferrando R, Balmes J. Sputum induction and bronchoscopy for assessment of ozone-induced airway inflammation in asthma. Chest. 2005 Jul; 128(1):416-23.
Arjomandi M, Witten A, Abbritti E, Reintjes K, Schmidlin I, Zhai W, Solomon C, Balmes J. Repeated exposure to ozone increases alveolar macrophage recruitment into asthmatic airways. Am J Respir Crit Care Med. 2005 Aug 15; 172(4):427-32.
Wang BY, Candipan RC, Arjomandi M, Hsiun PT, Tsao PS, Cooke JP. Arginine restores nitric oxide activity and inhibits monocyte accumulation after vascular injury in hypercholesterolemic rabbits. J Am Coll Cardiol. 1996 Nov 15; 28(6):1573-9.
Renoir JM, Le Bihan S, Mercier-Bodard C, Gold A, Arjomandi M, Radanyi C, Baulieu EE. Effects of immunosuppressants FK506 and rapamycin on the heterooligomeric form of the progesterone receptor. J Steroid Biochem Mol Biol. 1994 Jan; 48(1):101-10.
Select data provided by UCSF Profiles, powered by CTSI at UCSF. Learn more about the data source.