Faculty Profiles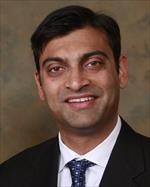 Mallar Bhattacharya, MD
M_MED-CORE-PULM
Assistant Professor

415-514-4275
[email protected]


Dr. Bhattacharya is an Assistant Professor of Medicine in the Division of Pulmonary and Critical Care at UCSF Medical Center. He completed baccalaureate and medical degrees at Harvard University and an internship and residency on the Osler medical service at Johns Hopkins Hospital. He then went on to complete a clinical fellowship in pulmonary and critical care at UCSF, followed by research training in the laboratory of Dr. Dean Sheppard at the UCSF Lung Biology Center. He joined the faculty in 2012.


Research Interests
1) Airway Smooth Muscle: Asthma is a disease of dynamic airway narrowing. My laboratory studies the molecular determinants of airway smooth muscle contraction, ranging from specific contractile pathways to regulation of gene transcription in the setting of airway inflammation. Through this work, I hope to identify new targets for treatment of asthma.


2) Acute lung injury: The endothelium maintains barrier integrity of the lung vasculature. My laboratory seeks to understand the mechanisms governing disruption of this barrier during acute lung injury in order to spur discovery of novel pathways for treatment of lung edema.
Education and Training

| Location | Degree or Training | Specialty | Date |
| --- | --- | --- | --- |
| University of California, San Francisco | Fellowship | Pulmonary and Critical Care | 2010 |
| Johns Hopkins Hospital | Residency | Internal Medicine | 2007 |
| Harvard University | M.D. | Medical School | 2004 |
| Oxford University | M.Sc. | | 1999 |
| Harvard University | B.A. | | 1998 |
Recent Articles (9)
Bhattacharya M. Could a coffee a day keep the inflammasome away? Sci Transl Med. 2017 Feb 08; 9(376).
Bhattacharya M. Mesenchymal metamorphosis. Sci Transl Med. 2016 12 21; 8(370):370ec202.
Bhattacharya M, Kallet RH, Ware LB, Matthay MA. Negative-Pressure Pulmonary Edema. Chest. 2016 Oct; 150(4):927-933.
Bhattacharya M, Sundaram A, Kudo M, Farmer J, Ganesan P, Khalifeh-Soltani A, Arjomandi M, Atabai K, Huang X, Sheppard D. IQGAP1-dependent scaffold suppresses RhoA and inhibits airway smooth muscle contraction. J Clin Invest. 2014 Nov; 124(11):4895-8.
Su G, Atakilit A, Li JT, Wu N, Luong J, Chen R, Bhattacharya M, Sheppard D. Effective treatment of mouse sepsis with an inhibitory antibody targeting integrin avß5. Crit Care Med. 2013 Feb; 41(2):546-53.
Bhattacharya M, Su G, Su X, Oses-Prieto JA, Li JT, Huang X, Hernandez H, Atakilit A, Burlingame AL, Matthay MA, Sheppard D. IQGAP1 is necessary for pulmonary vascular barrier protection in murine acute lung injury and pneumonia. Am J Physiol Lung Cell Mol Physiol. 2012 Jul 01; 303(1):L12-9.
Su G, Atakilit A, Li JT, Wu N, Bhattacharya M, Zhu J, Shieh JE, Li E, Chen R, Sun S, Su CP, Sheppard D. Absence of integrin avß3 enhances vascular leak in mice by inhibiting endothelial cortical actin formation. Am J Respir Crit Care Med. 2012 Jan 01; 185(1):58-66.
Sigle RO, Gil SG, Bhattacharya M, Ryan MC, Yang TM, Brown TA, Boutaud A, Miyashita Y, Olerud J, Carter WG. Globular domains 4/5 of the laminin alpha3 chain mediate deposition of precursor laminin 5. J Cell Sci. 2004 Sep 01; 117(Pt 19):4481-94.
Select data provided by UCSF Profiles, powered by CTSI at UCSF. Learn more about the data source.