The Pulmonary, Critical Care, Allergy and Sleep Medicine Program has a long history of providing outstanding clinical care, performing innovative research and training academic scientists and physicians. We currently have active, well-funded clinical, translational and basic research programs in lung development, international lung health, pulmonary immunology, genetics of pulmonary and allergic diseases, lung transplantation, microbial pathogenesis, airway diseases, acute lung injury, pulmonary fibrosis, pulmonary malignancies and pulmonary health disparities. Our large, NIH training grant has been continuously funded since 1966. Our program has trained more than 120 Professors of Medicine, including 27 current and former division chiefs, 20 Department Chairs, 3 Deans and 1 University President. Nearly a quarter of all academic pulmonologists in the United States have trained at UCSF.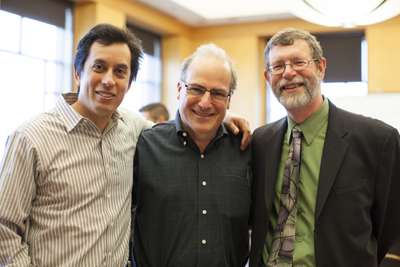 The Pulmonary, Critical Care, Allergy and Sleep Medicine Program includes the UCSF Pulmonary, Critical Care, Allergy and Sleep Medicine division (based at the Parnassus and Mt. Zion sites), the Pulmonary and Critical Care divisions of the San Francisco General Hospital and Trauma Center and the San Francisco VA Medical Center, and the Lung Biology Center at UCSF's Mission Bay campus. Each emphasizes different aspects of care for patients with lung disease and lung disease research. We are closely affiliated with the Cardiovascular Research Institute, the UCSF Biomedical Sciences and Immunology Programs, and the UCSF Sandler Asthma Basic Research (SABRE) Center. Our 56 Program Faculty have diverse interests and expertise. This website highlights these important elements of our Program and is intended to facilitate communication and information access for patients, practicing physicians, scientists, and trainees interested in a career in pulmonary, critical care, allergy and sleep medicine.
In addition to more than $30 million of annual research funding from the National Institutes of Health, our program has a current endowment of more than $60 million, which gives us great flexibility to move in new directions and support trainees and faculty even in the face of external economic uncertainty.