How PCCM Fellows are Supported at UCSF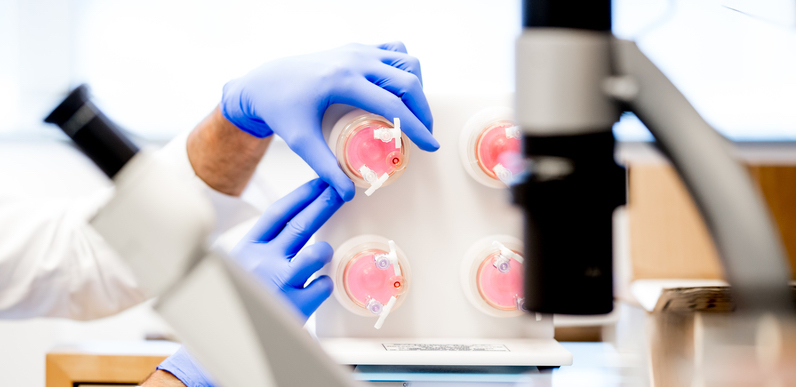 The mission of our training program is to develop the future leaders, innovators, and visionaries in academic pulmonary and critical care medicine who reflect the compassion, diversity and excellence we value. To accomplish this, we attract the most outstanding applicants and select the best as fellows in our program. We then support our fellows with an unsurpassed commitment to their academic success.
The Division of Pulmonary, Critical Care, Allergy and Sleep Medicine at UCSF has had a continuously funded NIH training grant, or "T32", to support fellows for over 40 years. The T32 provides a great opportunity for fellows to pursue the full-time research training necessary to launch their academic careers. This grant pays fellows' salaries as well as some coursework (e.g. Master's degrees) and educational travel. Individuals can receive up to 3 years of funding on the T32. Fellows will typically begin research during the second year of fellowship; therefore, the T32 can support fellows, as needed beyond the ACGME fellowship time, i.e. through the 4th or 5th year after starting fellowship. During the 4th and 5th years, graduate fellows are appointed as Clinical Instructors in the division independent of their funding mechanism. 
After clinical training at UCSF, fellows in the program are supported by a variety of mechanisms. The details of the sources of salary support for each individual will be determined by each fellow's mentors and division leadership based on the specifics of their career path. Support on the T32 is the typical pathway UCSF fellows will follow. This mechanism provides the greatest flexibility for fellows as they pursue their research training. Fellowship applicants should be aware that recipients of NIH T32 grant funding at UCSF or any other fellowship program are required by the NIH to engage in academic or service pursuits for one month for each month of support received, to a maximum of 12 months, beginning after the first year of support (see figure below). If a fellow is supported by the T32 until the end of the 3rd year of fellowship, they will need to remain engaged in academic medicine or health-related service for an additional 6-12 months; for example, they may work as a research fellow or a faculty member at UCSF or elsewhere. This link provides more details about this NIH program: 
Note that "payback" can be concurrent with training and begins on month 13 of T32 support, continuing until month 24 of support on the T32. The third year of T32 support is without further obligation. Example: If a fellow starts on the T32 in January of ACGME year 2 of fellowship, the payback period would begin in January of the third year and continue until the following January (that is six months beyond the end of ACGME training). The fellow may remain supported by the T32 for a total of 3 years and thereby concurrently fulfill the payback while continuing training.  Example 2: If a fellow starts on the T32 in July (the beginning) of the third ACGME year, payback would begin at the end of the third ACGME year and continue for 1 year beyond ACGME training. The vast majority of fellows fulfill their requirement by remaining research fellows/clinical instructors for a fourth year, but this is not the only option. Engagement in service/academic medicine is relatively broadly defined by NIH and includes engaging in health-related research, health-related teaching, research training, and/or health-related activities that averages at least 20 hours per week based on a full work year. 
Applicants who are not willing to make a 6-12 month, half-time commitment to academic medicine or health service beyond fellowship should consider programs other than UCSF. Talk with our program director or fellowship leadership team about any questions you might have about how fellows are supported at UCSF

Example Schedule. The first 18 months of the program are dedicated to clinical training in pulmonary and critical care medicine (PCCM). Year two emphasizes critical care medicine. Clinics continue through the ACGME period of the program (Year 1-3). In this example, T32-supported research begins in January of year 2. Note that January of year 3 through January of year 4 is the T32 payback period, which extends beyond the ACGME portion of the training. Some fellows do CCM in the second half of year 2 and begin support on the T32 in July at the start of year 3. Their research in the first half of year 2 is supported by other mechanisms.    
UCSF comprises more than five campuses across San Francisco, including hospitals and state-of-the-art research facilities. The majority of clinical training occurs at UCSF Medical Center, Zuckerberg San Francisco General Hospital and the San Francisco VA Health Care System. Fellows in research training work at these sites and also UCSF Mission Bay, which includes the Lung Biology Center and the Cardiovascular Research Institute. UCSF fellows also work with our Clinical and Translational Science Institute (CTSI), the Broad Center of Regeneration Medicine and Stem Cell Research, and the Helen Diller Family Comprehensive Cancer Center. UCSF is awarded more National Institutes of Health funding than any other public institution, but in addition to more than $30 million of annual research funding from the NIH, our program has a current endowment of more than $60 million. This gives us great flexibility to support trainees and junior faculty, even in the face of external economic uncertainty. UCSF also provides a rich learning environment that includes opportunities for course work in clinical research, statistics, basic sciences, implementation science, and more. When appropriate to a fellow's chosen career path, our program supports additional training in coursework, including support for advanced degree programs. Access to this wide range of clinical and research resources gives our fellows an outstanding chance for success in their chosen career path.
UCSF has a tremendous record of success in training academic physicians. Graduates from our program include multiple ATS presidents, national policy leaders, division chiefs, chairs of medicine and deans. We have more than 50 full-time faculty members who provide innovative clinical care and lead cutting edge research in every aspect of lung disease and critical illness. UCSF fellows have a range of mentors to select from when choosing an academic pathway, not only within our program, but also with other UCSF faculty. Our program currently has two NIH K12 programs. These programs allow UCSF trainees to apply for career development funding to launch their academic futures. UCSF is also uniquely successful in mentoring fellows to career development awards, including NIH K08 and K23 awards, VA Career Development Awards, and many others. We also offer a track in Clinical Education for fellows interested in pursuing an academic career focused on scholarly contributions to medical education. This pathway includes dedicated training and coursework along with education-focused projects or research. Our fellows have choices when deciding on an academic track. Click here to view research opportunities in our division. 
Pursuing a career in academic medicine can seem stressful when one considers the need for comprehensive clinical training, and sustained research funding beyond the ACGME years. Our program provides an unsurpassed commitment to the successful launch of each fellow's academic career. By leveraging our resources and providing expert mentorship, we pledge to support fellows for as long as they need to successfully compete for a career development grant or faculty position, depending on their career track. That means that fellows who complete their ACGME training can be confident that the program will ensure they are financially supported as they work toward their first grant.