Cystic Fibrosis Clinical Trials
The Cystic Fibrosis Foundation Therapeutic Development Network has partnered with UCSF to conduct clinical trials broadly aimed at improving the lives of people with Cystic Fibrosis
SIMPLIFY
Trikafta® has been life changing for many patients living with CF. The optimal use of airway clearance and inhaled therapies in the era of Trikafta® is unknown. The goal of SIMPLIFY is to learn the safety of continuing or discontinuing the use of hypertonic saline and/or pulmozyme.
Over the course of 6 weeks, participants will have 4 in-clinic visits and one phone call visit. Participants are compensated with up to $447, plus travel costs.
CYSTIC FIBROSIS LUNG TRANSPLANT CONSORTIUM BIOREPOSITORY AND REGISTRY
The CFLTC Biorepository and Registry act like a library -- the Registry stores clinical data related to transplant care and the Biorepository stores biological samples, including blood and bronchoalveolar lavage fluid.
Eligible participants will be able to contribute specimens as part of their regular transplant care appointments. Having more samples and data enable better research. To maximize the number of samples and data available for research, individuals who receive a double-lung transplant will be able to participate, regardless of whether or not they have CF.
Individuals who have already received a lung transplant and are interested in learning more about the CFLTC Biorepository and Registry and how to participate are encouraged to contact [email protected].
VX20-121-102 
Research is underway on an investigational combination therapy consisting of VX121/tezacaftor/deutivicaftor for restoring CFTR function toward the levels seen in CFTR carriers who do not develop CF.
We are looking for individuals who are heterozygous for F508del and a minimal function mutation. The purpose of this study is to evaluate the effectiveness and safety of the investigational drug. This study is blinded, meaning neither you nor your study team will know which drug you have been assigned to.
The study has a duration of approximately 64 weeks, with 13 in-person visits and 6 telephone visits. Study drug will be provided, and visits will be compensated, including meals and transportation.
None
Active Studies - no longer enrolling
VX18-445-110
This open label study is evaluating the long-term safety and efficacy of VX-445, now known as Trikafta®. VX110 has a duration of 96 weeks with 13 in-person visits and 14 phone call visits. Study drug is provided, visits and assessments are compensated.
Please contact Legna Betancourt at [email protected] for further information and enrollment details!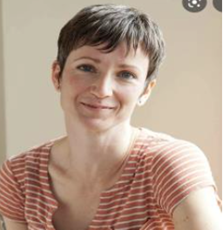 Courtney Moreno
Research Coordinator
UCSF Pediatric Program
[email protected]