San Francisco is a diverse and busy city that lends itself to endless exploration. One can spend a lifetime and not see all that San Francisco has to offer in art, nature, beaches and outdoor activities.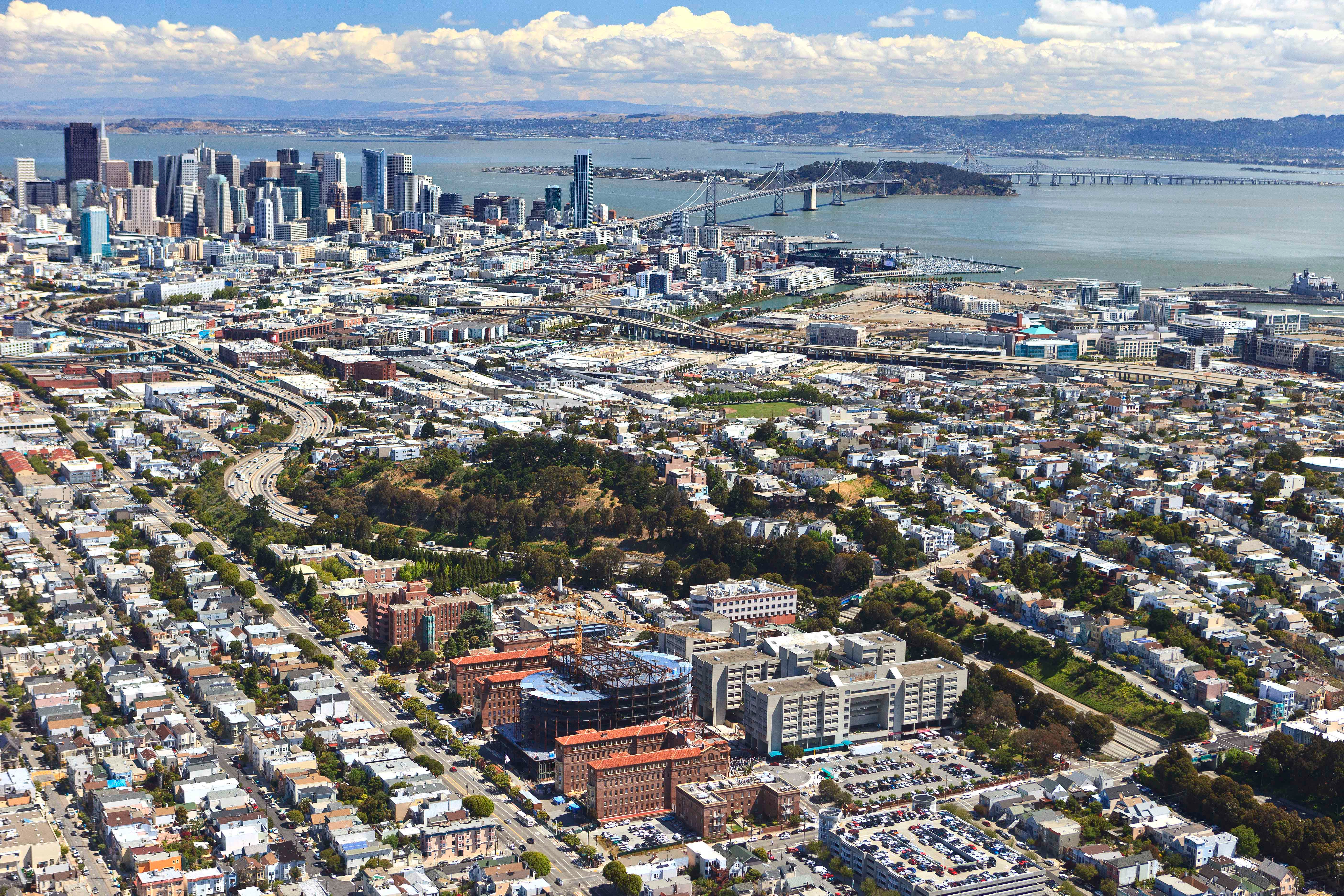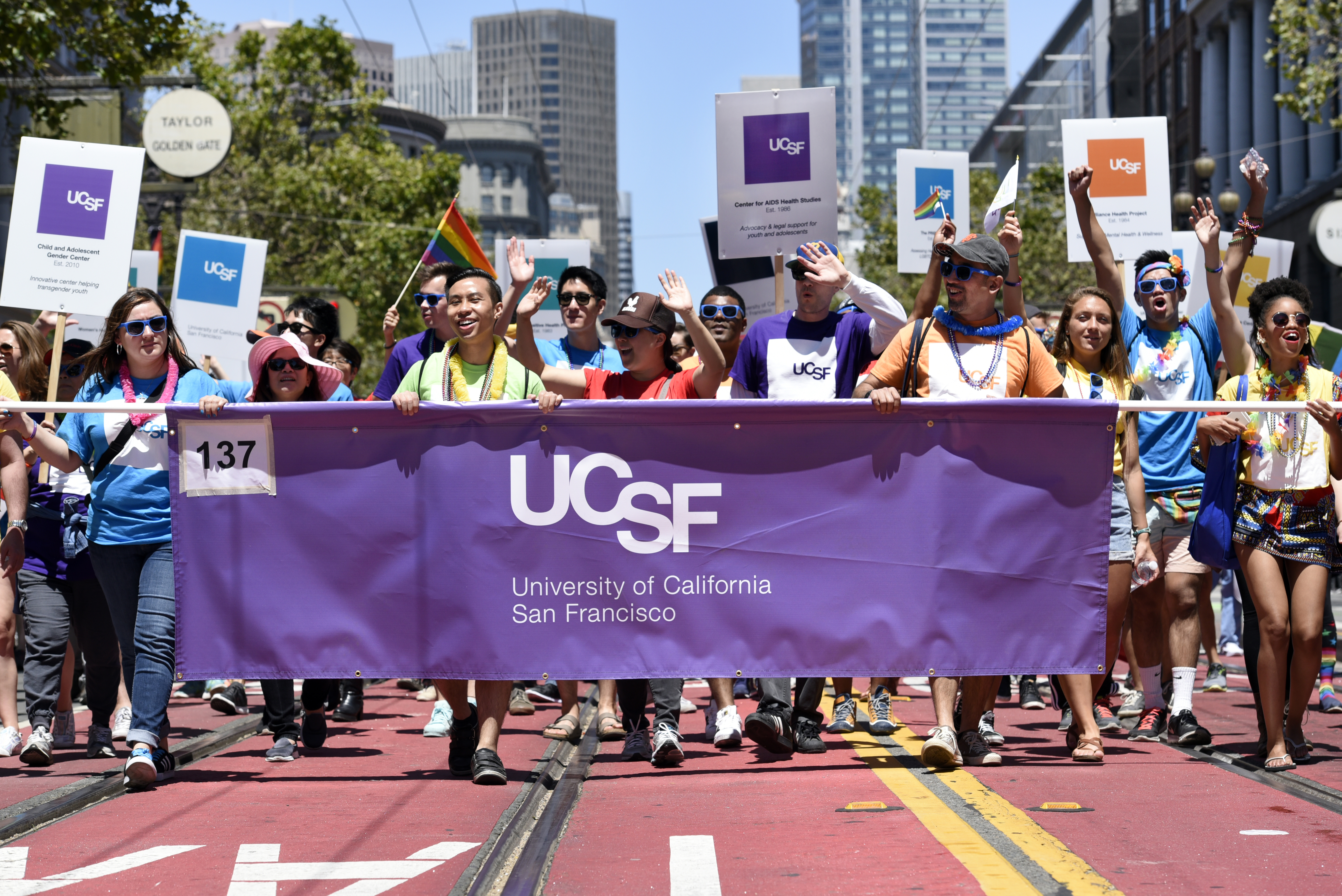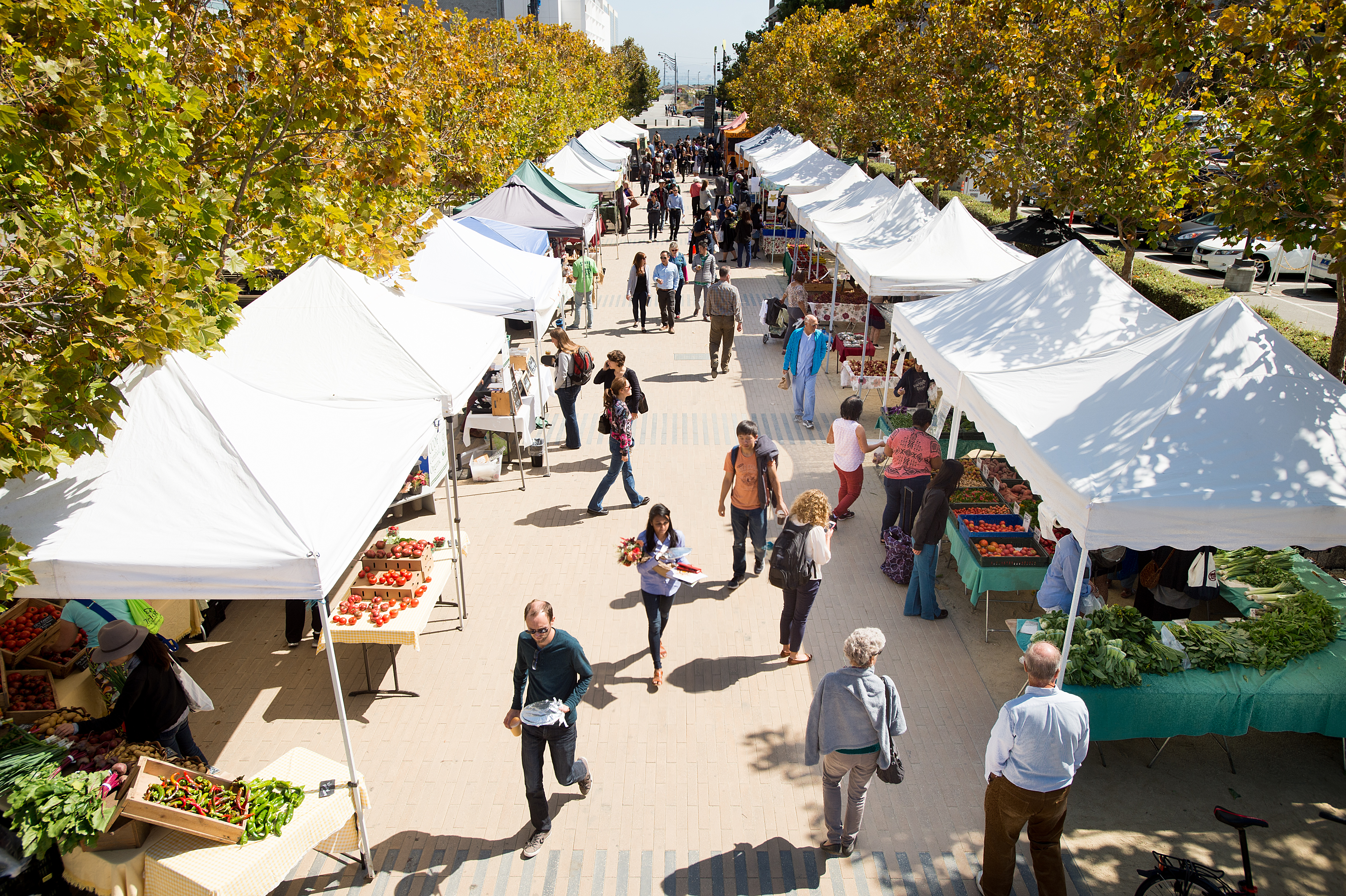 Getting Here
Traveling to San Francisco 
San Francisco by Air
When flying into San Francisco, most people choose San Francisco International Airport (SFO). SFO offers easy access to most any part of the city via BART or Supershuttle (~$15.00 per person). A taxi from SFO should cost between $25 and $50 depending on your destination. Finally, SFO offers the usual range of car rental options. A popular option now is Uber/Lyft. 
You also have the option of arriving through Oakland Airport, which could potentially save you money by flying Southwest or Jeb Blue. From Oakland Airport you take a ~$3.00 AirBART bus to an Oakland BART station, then a ~$6.30 BART ride to downtown San Francisco. This system operates 5AM to midnight on Monday through Saturday, and 8AM to midnight on Sundays.
Driving to San Francisco
The three major routes into San Francisco are crossing the Golden Gate Bridge from the north on highway 101 (~$6.00 toll), crossing the Bay Bridge from the east on I80 (~$4.00 toll), or coming up the peninsula on I280 or highway 101. Of these three routes, the Bay Bridge method is most likely to leave you stuck in traffic during rush hour. If you are using directions from an internet service (Waze, Google Maps, etc) be wary of their directions in the city. There are many street in San Francisco that are perfectly fine for your car, but quite stressful if you are piloting a huge truck which contains all of your worldly possessions.
The Neighborhoods 
Like most great cities, SF is organized into fairly discrete neighborhoods that each have their own character and ambiance. As you all begin to meet and get to know people here, the question of where you live will be the most asked.
While it is very nice to have one hospital that you can walk to, (especially Moffitt where there is no alternative parking) a car or public transit will get you where you need to go. So pick your neighborhood based on the places that you find and the scene you are looking for. See our section on finding an apartment for some tips.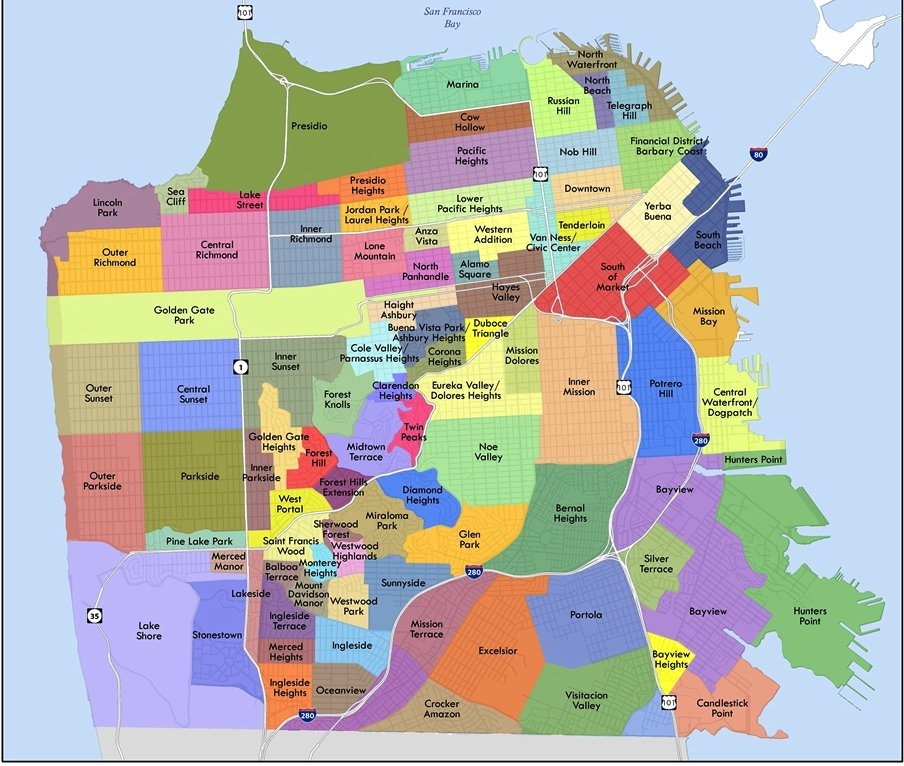 Affordability Index (in general!)
Least expensive: Inner Richmond, Outer Richmond, Inner Sunset, Outer Sunset, Portola, Bayview, Excelsior, Ingleside
In the middle: Alamo Square, Cole Valley, Lower Haight, Upper Haight, NOPA, Presidio Heights/Laurel Heights
Most expensive: the Castro, Financial District, Hayes Valley, Marina/Cow Hollow, Mission Bay/Dogpatch (UCSF-affiliated housing is the exception), the Mission, Nob Hill, Noe Valley, North Beach/Telegraph Hill, Pacific Heights, Potrero Hill, Russian Hill, SOMA
Optional reading:
http://sf.curbed.com/2015/6/3/9953688/the-curbed-guide-to-san-francisco…
The Inner Sunset
About: The beginning and ending of most residents' apartment searches. The most popular neighborhood for UCSF residents and students, the Inner Sunset is a large neighborhood directly adjacent to Moffitt and is generally quiet and more affordable than other neighborhoods. At 9th and Irving there are some great bars and restaurants (Nopalito, Ebisu, Social Kitchen & Brewery are resident favorites). The neighborhood borders Golden Gate Park with easy access to running trails, baseball fields, museums, etc. To most San Franciscans the Sunset is best known for the fog. Expect June through September to have more fog than sun. The rest of the year is not too bad though.

Where: Near Moffitt. Bounded by GG park to the north, Noriega to the south, Stanyan to the east, and 19th avenue to the west.

Pros:
- More affordable housing
- Good bar/culturally diverse restaurant scene that has developed quite a bit in recent years​​​​​​
- Easy access to Moffitt, and shuttles to the VA and SFGH
- Easy access to the N-Judah train that goes downtown and generally helps you access many parts of the city easily, including the Bart Train
- Easy access to Golden Gate Park, and Ocean Beach
- Reasonable street parking especially as you move away from 9th and Irving
- Lots of families and quieter streets, very walkable
Cons:
- Dense fog and cool weather, especially during the summer months
- Wherever you are in the Sunset, Moffitt seems to follow you around. It's a bit like the eye of Sauron.
- It's a bit of a trip to get to the Castro, Mission, etc (although the plethora of public transportation options in this neighborhood really helps)
See also:
-The Outer Sunset, which is west of 19th Ave and even colder/foggier. Has cheaper housing and plentiful street parking.
-Cole Valley, a sleepy few blocks east of Moffitt with slightly more sun, a great neighborhood vibe, and some nice homes (tends to be more expensive, however)
-The Richmond, which mirrors the Sunset to the north of Golden Gate Park. Same fog and affordable housing as Inner/Outer Sunset.  Although regarded by many to be a "Second Chinatown," it is continuing to develop and now has a number of more trendy restaurants and bars that is making it more of a dining hotspot. Closer to the VA.
The Richmond (Inner and Outer)
About: Very similar to the sunset in terms of walkability, safety, and demographics. The housing stock is larger, less expensive per square foot, and more family-oriented than most of SF. The clement street corridor in the Inner Richmond has a great and growing bar/restaurant scene, especially if you love Burmese or Chinese food. Situated between the Presidio and Golden Gate Park, and the closest neighborhood to Marin, the Richmond has great access to outdoorsy things.

Pros:
- Affordable
- Apartments/houses tend to be larger and have backyards
- Inner Richmond is a 1-2 mile walk from Moffitt, the outer Richmond is close to the VA
- Tons of running and biking in the presidio and golden gate park
- Low key, family friendly vibe
- Cheap produce abounds
Cons:
- Cold/foggy
- Far from ZSFG/the mission/the castro – commute can be long
- The outer Richmond is less dense than most of SF
Bus is the only public transit option (no MUNI or BART trains nearby). Hard to manage residency unless you either bike or drive.
NOPA/Lower Divisadero
About: A historic neighborhood that fell on hard times in the 70's and 80's that is now becoming increasingly popular. It is home to mostly 20- and 30-year old renters who are seen walking their dogs to Alamo Square Park . The bar and restaurant scene has taken off recently, and includes old favorites (Nopa) and recent additions (the Bi-Rite market on Divis, which is kind of a big deal).

Where: NOPA is North Of The Panhandle and includes the 5-6 blocks north of Fell St. along the easternmost outcropping of Golden Gate Park (The Panhandle). This area tends to be a bit more residential and quiet than Lower Divis. Lower Divis includes the blocks adjacent to Divisadero from Fell St. to Turk St.

Pros:
- Great bar/restaurant scene that seems to be getting better each week
- Alamo Square Park and the Painted Ladies nearby, where the Full House intro was filmed
- Centrally located with quick access to a lot of great neighborhoods
- Not too far from UCSF Mt. Zion (located at Divis and Post) which has shuttle service to Moffitt and ZFGH, optimal location for those with clinic at Mt. Zion

Cons:
- Pricey although not as bad as the Mission (yet)
- Parking can be limited

See also:
-Lower Pac Heights, which is to the north and centered around California & Fillmore. This is another popular area and has a great restaurant scene.
-The Upper Haight (a.k.a. the Haight), which is south of the panhandle. This was the epicenter of the summer of love and now is home to an uncomfortable mix of real hippies, panhandlers, and tourists. Its proximity to UCSF and a multitude of bars and restaurants is attractive, but the scene can be a bit over the top at times.
The Mission
About: The Mission is a loud, vibrant mix of Latino and hipster culture that has some of the best nightlife in town. It arguably has the highest density of top restaurants and bars in the city (flour+water, Range, Delfina, the list is endless) in addition to cheap eats and taquerias. The weather is sunny and a few degrees warmer than the rest of the city, the food is spicy, and the ongoings on the street are often weird. On weekend days people from all parts of the city flock to Dolores Park for sunshine, people watching, and Bi-Rite ice cream.

Where: The Mission is a large square bounded by 14th street to the north, Cesar Chavez to the south, Sanchez (and the Castro) to the west, and Potrero to the east. The areas nearest Dolores are highly gentrified while the eastern parts of the Mission are more gritty/interesting but less safe.

Pros:
- Many of the best restaurants in the city
- Great nightlife
- Great street food
- The sunniest, warmest part of SF
- Close to ZSFG
Cons:
- Very expensive
- Very hard to park: can take up to an hour on weekends to find a parking spot
- Loud
- Some parts unsafe

See also:
- Bernal Heights, the quiet hillside neighborhood to the south full of young families and cute homes.
The Castro
About: Historically the gay capital of the city (and the world). When some people think of the Castro, they think of the huge rainbow flag at Castro & Market or the multitude of gay bars and sex shops lining Castro Street. However most of the neighborhood is quiet and peaceful. The old homes are nice and the weather is sunny.
Pros:
- Fun neighborhood regardless of sexual orientation
- Some great bars/restaurants
- Great access to public transit
- Sunny and warm
- Strategically located between Moffitt and ZSFG
Cons:
- Can be expensive
- Parking can be tough
- Busy/loud near Castro & Market (not a con for everyone!)
See also:
- Noe Valley, the quaint residential neighborhood to the south with good shops and restaurants. Another neighborhood full of young professionals with families.
- Duboce Triangle, a small neighborhood north of the Castro which includes dog-friendly Duboce Park. Has a great French restaurant (L'Ardoise) but is for the most part an island of residential quiet in the midst of a busy city. Great central location.
- Diamond Heights, a hilly residential area to the west with great views. Not the best in terms of accessibility to restaurants and public transit. Expect to drive if living in this hilly neighborhood (good luck biking)
Mission Bay
About: A developing area that includes the UCSF Mission Bay campus. Mission Bay has been built entirely in the last 10-15 years and includes student housing and new apartment/condo developments. Right now the bar and restaurant scene is limited but it is definitely growing. It's adjacent to the bay and sunny/warm unlike the neighborhoods on the west side of town. It is also close to AT&T Park, home of the World Champion SF Giants and some good sports bars.
Pros:
- Sunny/warm
- New developments that are not as expensive as other nearby neighborhoods
- Easy access to Mission Bay shuttles which go to ZSFG and Moffitt
- Can walk to the baseball stadium
- Parking is better than in other eastern neighborhoods
- Great running paths along the bay
Cons:
- Bar and restaurant scene is still a work in progress
See also:
- SOMA (South Of MArket), the startup-friendly district to the north of AT&T Park. It's a patchwork of new developments and older residential hotels. Unfortunately it's only somewhat close to ZSFG so the average commute can be quite long.
- Potrero Hill, a residential neighborhood in the hills east of ZSFG. Can find some great deals here for renting an apartment or floor of a home. It's a hike up the hill but a nice residential neighborhood with a cute, vibrant business area of bars/restaurants. The line for brunch at Plow is impressive but worth it for the lemon ricotta pancakes…
Hayes Valley
About: Hayes Valley is also centrally-located and popular. Hayes has great bars and restaurants like Papito, Absinthe, and Suppenkuche. There are upscale boutique stores under olive trees on Hayes Street. Residents are often seen at Patricia's Green enjoying a treat from Smitten Ice Cream or having a beer under the lights at Biergarten. Parking and traffic here can be killer.  Although this seems to be improving, has been noted to be less safe than other listed neighborhoods in the past.

Where: Bound by Franklin to the east, Fillmore to the west, Fulton to the north, and Market Street to the south. The north and east parts of this area are less safe.

Pros:
- Great nightlife and bar/restaurant scene
- Great shopping
- Great neighborhood vibe
- Sunny
- Not too far from the N-Judah train which goes to Moffitt
Cons:
- Tough parking
- Expensive
See also:
-Lower Haight, a trendy but quieter stretch of bars and cafes along the easternmost part of Haight Street with really cute housing.  Not the same as the Upper Haight at all. Toronado may be the best beer bar in the city, and the sausages next door at Rosamunde make these two places a killer combo.
The Marina/Cow Hollow
About: The Marina is the playground of SF's fashion-conscious and fratboys. There are bars, clubs, and trendy restaurants along Chestnut Street. San Franciscans flock to the Marina's long shoreline which has the city's best views of the bay, the Golden Gate Bridge, and the Marin Headlands. There's also some nice window shopping along Union Street in Cow Hollow. This area is expensive and beautiful.
Pros:
- Sunny/warm
- Stunningly beautiful buildings, and views.
- Nice collection of bars and restaurants
Cons:
- Expensive living
- Hard to find parking
- Far from all three hospitals
See also: Noe Valley
Living Outside of San Francisco
This is not a common choice amongst residents. Most prefer to live in the city as work days can be long and unpredictable, but if needed, there have been several residents that have lived either in the North Bay (San Rafael, Novato, Corte Madera), the East Bay (Oakland, Berkeley), and/or just south of the city (South San Francisco, San Mateo, Daly City, Burlingame). You will more than likely need a car if living outside of the city (although you may be able to use public transportation from the East Bay), and should factor in bridge tolls into daily expenses.  Housing can be cheaper, but some of this cost is offset by the cost of commuting. 
Transportation
Public Transit
Public transportation is generally good in the Bay Area. A great general resource for those of your considering public transportation is http://511.org/, which is a nice overview of the transit options in the area. The Transit Trip Planner there will rapidly tell you which buses/trains are available to get you to any destination in the Bay Area.
MUNI buses, light rail, subway, and cable cars will transport you throughout the city. Monthly passes can be purchased for your Clipper Card or you can load cash onto the card. Each ride is $2.00 (which allows for transfers). If you don't have a card you need exchange change.
BART (Bay Area Rapid Transit) will get you out to the surrounding communities including Daly City, Oakland, and Berkeley, the airport, and further. When you enter the BART station you must buy your ticket immediately from a ticket machine. You will receive a small card that you insert into a machine marked "enter", keep it until you arrive at your destination. When you leave the BART station, you insert the card again in the machine marked "exit". If there is any money left on your card, it will be returned to you, otherwise, the machine will keep your card. BART and MUNI are designed to transport people to and from downtown San Francisco; none of the three hospitals is located downtown.
On weekdays UCSF operates shuttles between the major campuses, although the hours of operation may or may not be convenient for early/late working housestaff.
Golden Gate Transit provides ferry and bus service between Marin County and San Francisco.

Cal Train, a high-speed diesel rail service, serves the peninsula from San Francisco to San Jose.
Cars
For those of you who are planning on having a car, you'll need to plan ahead. The California DMV is a necessary resource.
1. Smog Check
You will need this before registering your vehicle if you bring your own car. You can do it at most gas stations, look for an official "Emission Control" sign. Expect to pay $35-50. If your car does not have a California emissions control system, you may have to pay $300 in fees or have your car retrofitted.
2. Make a DMV Appointment
At the DMV you can:
a. Get your license
b. Change your car title to your name
c. Get your Registration
(see below)
You'll need separate appointments for each of these steps, and the ideal is to schedule them back to back, but if that is not possible, you can often get them on the same day. One resident reported she took her license test in the morning, had lunch on Haight Street, and then came back in the afternoon for her registration. So plan on making an (extremely productive) day of it, either way.
You can make appointments ONLINE (https://eg.dmv.ca.gov/foAppt/Welcome.jsp) The DMV offices are located at:
1377 Fell Street
SF, CA 94117
(415) 557-1179
or

1500 Sullivan Ave.
Daly City, CA 94015
(650) 994-5700
Keep in mind that they book 10 or so people for the same appointment time, so don't be in a rush.
a. Get your California Driver's License
Your out-of-state driver's license is valid for only 10 days. If you come from another state, you will need to pass a written test for a California license. If you come from another country, you will need to pass a written test and a road test. The driver's handbook PDF is available on the DMV website, and we recommend looking it over before your test.

Even if you do not drive, you may obtain a photo I.D. card ($6) that will be useful for financial transactions. Be advised it takes around four weeks to receive your California license. Your old license will be invalidated, so you will need to have other means of identification in the meantime (a temporary license will only meet driving needs).
b. Change your car's title to your name
If you are driving mom and dad's car, make sure you get them to change the title to your name. This will be important when trying to get a parking permit.
c. Register your vehicle
You must register your car with the state within 20 days if you brought it with you from another state and within 30 days if you bought it here. Failure to do so can result in a penalty and other legal difficulties. Registration can be accomplished at DMV offices listed above.
3. Car Insurance
Many residents recommend getting insurance that covers theft/breaking into your car.
Parking
Moffitt
a. public parking lot in front of hospital
Free: 4:45pm-8:00am if you show your badge. Also weekends (Friday 4:45p-8am on Monday) and UC holidays. Need to show your ID badge.
b. Permit lot on Parnassus
Entrance on
Irving under ACC bldg
$101/month, prorated if you purchase after the 1st of the month
Can enter 24hr/d
Buy pass by going to the parking office at G level of Milberry Union
c. Dayfloat
Free parking with passes handed out by the CR
d. 55 Laguna permit lot
Cheaper, but further away, need to depend on shuttle service
Cost: ~$50/mo
Buy pass by going to the parking office at G level of Milberry Union
ZSFG
Cost: ~$140/mo
Park in parking structure 1st day, get your permit validated
Get your permit in parking structure on 23rd street
Can park on street and walk, use escort service (go to front desk and they drive to your car)
VA
cost ~$12.50/month
get parking permit at the cashier's office.
no cost for overnights
Neighborhoods
Most neighborhoods require permits to park long term. Temporary 24 hour passes are available (good for visitors). However, even with permits it's difficult to leave your car somewhere and forget about it for a week. Once or twice-weekly street cleaning occurs on most San Francisco streets, and unless you have hundreds of dollars to spare, familiarizing yourself with your neighborhood's street cleaning patterns is well advised.
Permit parking
To get a residential permit to have preferential parking in your neighborhood, you can submit an application either by mail or in person at the Residential Parking Permit office at 1380 Howard Street. Applications and instructions are available online at http://www.sfgov.org/site/dpt_index.asp?id=13442#getpermit.
When going to purchase your yearly neighborhood parking permit, make sure you have: a copy of your car's registration, the car's title in YOUR name, and another piece of documentation that proves you live at your current address (bank statement, cable bill).
Without these three pieces of documentation, they will not issue the permit.
The cost is generally around $60/year, and extends from November to November.
Car Share Companies 
If you are someone who wants to avoid the hassle of owning a car but still wants the convenience of occasionally have a car available, car sharing may be a nice option. There are several car sharing companies in the city, which offer different combinations of hourly rates, monthly payments, and membership fees. Each company has "pods" where cars can be picked up and returned throughout the city.
Bicycling 
Biking to work is a great way to avoid the expense and hassle of driving and build in meditation and exercise into your day. Some residents have managed to avoid owning/dealing with cars altogether throughout their residency, so know that it can be done!
A few great resources for bicycling in the city include the San Francisco Bicycle Coalition and the UCSF bicycling resource page.
1. Where to Get a Bicycle (cheap)
Get your UCSF discounted San Francisco Bicycle Coalition membershipto get discounts at local bike shops - often up to 10% off.
American Cyclery
510 Frederick St @ Stanyan
& 858 Stanyan St
San Francisco, CA 94117
(415) 664-4545
Pedal Revolution (Used)
3085 21st St
SF, CA 94110
(415) 641-1264
Valencia Cyclery
1077 Valencia St @ 22nd
SF, CA 94110
(415) 550-6600
Missing Link
1988 Shattuck Ave @ University
Berkeley, CA 94704
(510) 843-7471
2. Where to Park your Bike
ZSFG
For Bike cage keys, see Resident Coordinator (206-8317) in 5H22.
UCSF
For Bike cage keys, you will need a photo ID, bike make, model, and serial number to REGISTER your bicycle (which can help you if it gets stolen). The serial number can be found between the two tires, or next to the wheel hub. (See http://www.utexas.edu/parking/transportation/biking/find_serial.html for details)
Go to Milberry Union room G26 with this information; you will register your bicycle and receive a bike cage key for a three dollar deposit
VA
Outside, no bike cage.
3. Where to Wash off the Sweat
ZSFG
The ED. Just kidding.
UCSF
Milberry Union.
VA
ICU call rooms, or women's locker room on the first floor.
4. How to Avoid the Hills
See the SF Bicycle Coalition topographic map to plan your trip and involve as many valleys as humanly possible.
The other option is to combine your bicycle commute with a helpful ride on public transit. See below for public transit's policies on bicycles.
MUNI
Muni encourages bicycle riders to use the exterior bike racks provided on most of their lines. All newer diesel and trolley Muni buses havefront-loading bike racks able to hold two bikes each. (except the 6 and 41 buses) Historic Streetcars, Cable Cars, and Muni Metro Light Rail Vehicles do not have bike racks, nor do some older vehicles; you may not bring bicycles on board.
BART
Bikes are allowed on all trains, on any car, except the first of the train. Bicycles are not allowed during peak commute hours (Weekdays approximately 7:05 to 8:50 am and 4:25 to 6:45 pm.), with exception of Embarcadero station for trips to the East Bay. Folded bicycles are allowed at all times.
Caltrain/Golden Gate Transit/Sam Trans
Allows bikes on all trains (first come, first served).
UBER/LYFT
Ride share companies such as Uber/Lyft are very popular now in San Francisco. Use Uber pool or Lyft line for cheaper fares. 
Emergency Ride Home
Take advantage of the "Emergency Ride Home" program, which provides a $50 subsidy for anyone who is commuting by public transport, bike or walking and not able to use that mode to go home because of an emergency. In these situations, you can ride a taxi, rent a car and have the cost of this trip reimbursed by the UCSF Rideshare program. Chris Weeks must approve all reimbursement requests at Transportation Services 415 475 1513.
Moving in
Moving to San Francisco
Your first decision is what you want to bring with you versus what you will simply replace when you get here.
If you decide to hire a moving company, start the process as early as you can, and get estimates from two or three companies. Estimates should be free, and online reviews can be helpful. Packing your belongings into boxes yourself can cut down on costs, and there will be varying levels of insurance that you can elect to purchase. In general, we would recommend using the more recognizable van lines that have offices across the country.
If you're moving cross-country, it will be a 2-3 week process from loading to delivery. Generally the mover will initially provide a 2 week "spread" for estimated delivery, and then a more precise date as delivery approaches. This is why planning ahead is vital. Tipping the movers is appreciated, but not necessarily expected.
Ikea, Costco, and Target (among others) are options for starting over. You may benefit from renting a truck for the day to pick up all of your new furniture, if you don't have any friends with trucks/vans.
Once you have a San Francisco address, you can arrange for water, garbage, and Pacific Gas and Electric before you arrive, as necessary. Don't forget about getting a California driver's license, registering to vote, and banking. See the Services section on our website for more info.
Several interns highly endorsed moving out to San Francisco in early June, rather than mid-June, which allows plenty of time to get settled & get to know the city.
For anyone moving from outside of the country, in general, customs is difficult.
Services and Utilities
Driver License
See our section on Commuting/Parking below. Visit the DMV website for detailed info. Definitely make an appointment or you'll be waiting in line for 3 hours.
Banking
San Francisco has the usual array of major banks. Best represented in number of branches and ATMs are Bank of America, Wells Fargo, and Washington Mutual.
Internet, TV, and Phone
Comcast can provide cable TV, internet, and/or phone. AT&T can provide internet and/or phone service. Satellite TV via Direct TV or Dish Network may or may not be an option where you rent or buy.
Electricity and Gas
To start service for your new home or apartment, you will need to contact Pacific Gas and Electric Company (PG&E).
Trash/Recycling
In San Francisco, landlords are responsible for arranging garbage collection. If you purchase a home, you will need to contact Sunset Scavenger AKA Golden Gate Disposal to arrange for weekly collection.
Commuting and Parking
San Francisco is a beautiful compact city with lots of ways to get to work. Many residents own a car, but others manage to piece together a combination of public transportation, bicycling and walking to complete their commutes.
Child Care/Schools
Getting out of San Francisco
San Francisco is ideally situated within a short drive of countless activities that make living here a true pleasure. Whether you enjoy amazing hiking, climbing, kayaking, or visiting world-class vineyards and restaurants, the Bay Area has a vast assortment of options for recreation, both widely renowned as well as hidden gems. Below are just a few examples with approximate driving times from San Francisco.
1 hour or less: 
Oakland/Berkeley

Angel Island
Point Reyes National Seashore
Mount Tamalpais
Tomales Bay oyster farms
Muir Woods
Sausalito
Half Moon Bay
1-2 hours: 
Napa, Sonoma
Monterey
Armstrong Redwoods State Natural Reserve
3 hours: 
Big Sur
Yosemite National Park
Lake Tahoe
4 hours: 
Morro Bay
Sequoia/Kings Canyon National Parks
Mount Shasta