HIV/AIDS, Pulmonary Infections(Non-TB), and Global Health
UCSF has a distinguished history of groundbreaking research in HIV-associated pulmonary diseases. Since the earliest days of the HIV/AIDS epidemic, many of the leading studies on the epidemiology, presentation, diagnosis, treatment, and critical care of Pneumocystis pneumonia (PCP) and other HIV-associated opportunistic pneumonias were conducted at San Francisco General Hospital and UCSF.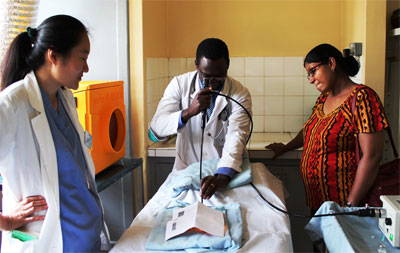 At the US peak of the epidemic, San Francisco General Hospital/UCSF was one of 6 clinical sites participating in the National Heart Lung and Blood Institute's (NHLBI) Pulmonary Complications of HIV Infection Study, the first multicenter prospective cohort study of pulmonary diseases in persons with HIV. This tradition continues today where San Francisco General Hospital/UCSF is one of 8 clinical sites for the NHLBI's Lung HIV Study, a multi-R01 consortium designed to examine a diverse range of infectious and non-infectious pulmonary diseases in HIV-infected persons in the US and in sub-Saharan Africa. San Francisco General Hospital/ UCSF is also one of 6 clinical and sequencing sites for the NHLBI's Lung HIV Microbiome Project, a multi-U01 consortium established to study the lung microbiome in HIV infection. UCSF researchers have risen to the global challenge of HIV/AIDS, and the division has vibrant research collaborations with pulmonary colleagues at Mulago Hospital and Makerere University School of Medicine in Kampala, Uganda. UCSF researchers are involved in a wide range of clinical and translational research studies in HIV-associated pulmonary diseases based at San Francisco General Hospital and Mulago Hospital (see separate description of ongoing tuberculosis-related research). These studies include:
A prospective, multicenter cohort study of HIV-infected patients hospitalized with acute pneumonia to determine the etiology and mortality of HIV-associated opportunistic pneumonias in areas with and without universal access to combination antiretroviral therapy (ART)
Studies examining the diagnosis of PCP, bacterial pneumonia (and TB) and the use of biomarkers as prognostic tools for these opportunistic pneumonias
Studies of putative trimethoprim-sulfamethoxazole drug resistance in Pneumocystis and its potential mechanisms
Immunologic studies of Pneumocystis in HIV-infected persons and in healthcare workers caring for persons with HIV
Epidemiology and transmission studies of human Pneumocystis addressing the question of whether human Pneumocystis is transmitted from person-to-person via an airborne route (as has been shown convincingly in laboratory animals) and whether disease results from reactivation of latent infection and/or from recent exposure and infection
Studies of air pollution on host immunity and risk of opportunistic pneumonias and COPD exacerbations in HIV-infected persons
Studies examining the microbial communities in the lungs, oropharynx, and gastrointestinal tract of HIV-infected persons at all stages of HIV/AIDS from acute (primary) HIV infection to chronic HIV infection to acute opportunistic infection (pneumonia)
These studies involve collaborations between clinical and laboratory-based researchers at San Francisco General Hospital and UCSF, as well as those throughout the US and the world.
Faculty